Martial Arts Classes For Kids
Discipline, Respect, Technical Excellence, Self Confidence and Leadership. These are the aims of or Kids Karate program.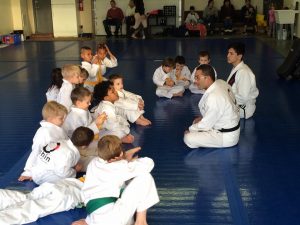 Martial Arts are one of the absolute most beneficial activities for children of all ages. Goal setting (belt levels), cooperation (partner drills), and the ability for each child to progress at his or her own pace are just a few of the advantages of enrolling your child in our Martial Arts Curriculum.
How many other sports or activities, not only get your kid off of the couch, but involve your child with a mentor figure who will give them guidence and instruction in a consistent fashion over an extended period of time?
Our ultimate goal is for every student to be a black belt, every teacher to be a friend, and every parent to be proud.
When it comes to our Kids Karate Lessons, they are not Karate per se, but rather a structured, and safe approach to teaching MMA for kids. Think of it as Kids BJJ meets Thai Boxing for kids meets life lessons and philosophy that will build character and develop successful habits.
Mushin Self Defense is one of Utah's first and finest schools for learning Mixed Martial Arts. We have served the Davis County area for over 17 years as the most professional and successful academy in the area.
With two Brazilian Jiu-jitsu Black Belts, and instructors certified in Combat Submission Wrestling and Muay Thai, no other school in the North Salt Lake area can come close to our level of experience, service and expertise.
Feedback From Parents

Our son loves Mushin Self Defense! Since beginning martial arts, he has learned self-control and respect for himself and others.
Sensei has also taught him that his martial arts knowledge should never be used to hurt others, but rather to prevent him from being harmed. We have comfort in knowing that if our young son ever finds himself in a dangerous situation, he'll know what to do.
Sensei has a great amount of patience with the class of energetic, 4-6 year olds and a unique teaching style that holds their attention. No two classes are exactly the same so there's always an excitement to see what skills will be taught and practiced in the next class.
Three years ago we discovered Mushin self defense for our 6 year old boy who was experiencing some anger problems at school.
Mr. Yamasaki and his trainers have taught our son discipline and respect which have been fundamental in his development as a young man. We later enrolled our 5 year old who is reaching the 1.5 year mark. In a short time, we will be enrolling our daughter. Not only are our children learning the discipline and respect as mentioned, they are gaining the confidence and self-esteem they need to succeed in life.
In addition, they are getting great exercise and learning to defend themselves which is increasingly becoming more important.
Sensei Yamasaki has been a great instructor to my son Dakota. Dakota is 5 and has been a student under the direction of Sensei Yamasaki for about 18 months.
I think one of the best attributes about Sensei Yamasaki is how patient he is with the younger children (as we all know that is a challenge in itself). Brian is constantly trying to mentor the kids on all aspects of  life often times taking 10 minutes of class time to talk about issues like bullying, fighting, respecting your family or hitting girls. He is always looking for ways to improve our children on all aspects of life not only in the physical aspects of martial arts. Brian is genuinely concerned for his students. Brian also takes the opportunity to communicate with parents after each class and address any issues that we might have.
To sum it up I would recommend Sensei Yamasaki to anyone who has young children it has been a great experience and my son is not only getting martial arts lessons but also real life lessons that I feel will make him a better person. 
As a father of a 4 year old boy, I put my son in Mushin Self Defense with the hope of improving his confidence and learning a skill. Much to my surprise almost three years later he and my 8 year old daughter are both still taking classes every week.
It has been a great experience and they have not only learned what I had hoped but they have also begin developing in other facets as well. Respect, process thinking and being comfortable in an arena that provides for many different experiences.
We are grateful for Brian at Mushin and would have it no other way. Mushin is about people and developing those skills as well as great instruction. Thank you Mushin!!
My two boys ages 4 and 7 practice at Mushin Self Defense. We have had a wonderful experience working with Sensei Yamasaki.
Mushin Self Defense has taught my sons to have respect for themselves and others as well as self discipline. When we began the classes my 7 year old had a very difficult time paying attention, waiting his turn, and respecting others but wow has he come a long way. He has learned life changing skills at Mushin.
Sensei Yamasaki makes it fun and exciting for young children to learn mixed martial arts!
Contact us to set up a FREE introductory lesson.
Related Posts