Women's Only Self Defense
Experience safe & friendly women's self defense training with our risk-free trial.
Learn More
Free Trial
Mushin is a great community with instructors who really know what they are doing. I would recommend them over and over with no hesitation,
When I was going through a rough time; the community, instructors, the exercise, basically all of it!
SELF DEFENSE FOR WOMEN
Whether you're a beginner looking to learn self-defense or an experienced Martial Artist, we have a program for you.
Our goal is to provide an environment where women feel safe and confident to learn and express themselves, to guide them on their journey of mental and physical development, and to help them gain a sense of confidence and self-worth while removing the victim mentality.
Professional, Practical, and Fun
Come join us in a safe, judgment free environment where everyone helps each other and shares in the smiles and laughs. We take our self defense seriously, but we never forget to have our fun the whole time we are learning it.
You will be taught how to defend yourself while standing. You will learn how to punch, kick and even use takedowns. You will learn how to escape grabs and holds and also how to defend yourself on the ground. You will learn how to use chokes, arm locks and leg locks, and also how to get back to your feet. All this while having the time of your life with some of the funnest ladies you've ever met.
Whether you're coming from Kaysville, Farmington, Fruit Heights, Centerville, Bountiful, Woods Cross, North Salt Lake or Salt Lake City, we are only a few minutes away.
Our unique time slot for our evening and afternoon classes make it easy for you to balance, work, family and your martial arts work out routine.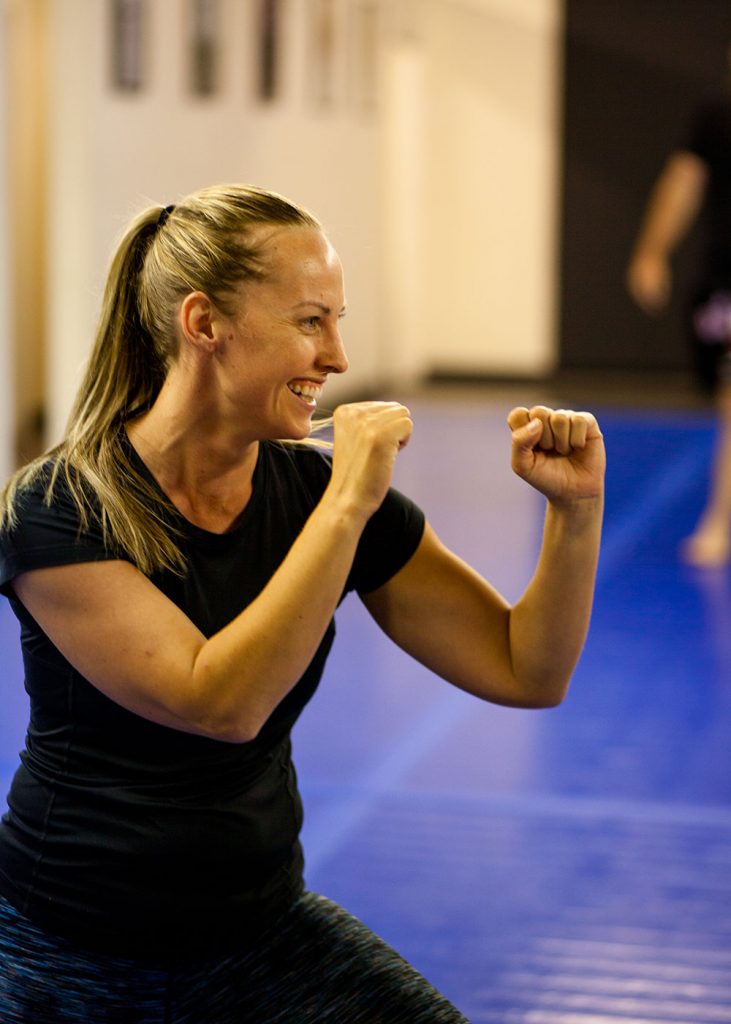 Beginners
Our instructors are trained to go at your pace and to make sure you are comfortable with each technique or drill before you begin. You will learn the basic fighting stance and footwork. You will learn how defend against strikes. And you will also become familiar with basic positions both standing and on the ground.
You will learn the concept of distancing and you will learn how to close the distance as well as what to do when someone closes the distance on you.
Level 1
Once you have your fundamentals down, you will begin to increase your physical strength. You will also begin to learn how to apply Martial Arts concepts to daily life and struggles that aren't necessarily directly related to a physical altercation. Winning the day for us is just as important if not more relevant than winning a "Fight".
You will expand your familiarity with basic escapes and positions and add to your submission arsenal.
Level 2
Here you will continue to improve your physical strength and begin to broaden your understanding and abilities as a striker. You will be versed in the use of boxing principles such as the bob and weave. You will learn how to put together longer combinations. You will also begin to learn how to apply the techniques you learned previously against resisting opponents.
Level 3 and Beyond
As with all our programs, the end goal is for you to learn about your true self, to accept that person for who they are and finally to express that self honestly and openly through the Martial Arts.
As Marianne Williamson, so eloquently said, "And as we let our own light shine, we unconsciously give other people permission to do the same. As we are liberated from our own fear, Our presence automatically liberates others."
We look forward to seeing you in class.
FREE TRIAL
Free Intro Lesson
Q: What level of experience do I need to start self defense training?
A: You don't need any background or experience at all.
Joining a martial artsi school may seem intimidating, but from your first class you will realize how friendly, patient, & helpful the teachers and your fellow students are.
Q: Do I need to improve my physical fitness before joining?
A: Self defense training is one of the most fun ways to develop fitness.
Start now and in a few months, you will notice an improvement in your physical fitness just like many of our students have experienced.
Q: What gear do I need to start training?
A: For your first lesson, just show up with comfortable athletic clothing. 
When you sign up for our free 30-day trial, we will go over any questions you have when we schedule your free intro lesson.
Q: What qualifications do the instructors have?
A: Both coaches Brian & Brandon have many years of experience coaching, cornering, & competing in MMA.
We are the only school in the area to offer two Brazilian Jiu-jitsu Black Belt Instructors, two State Representatives in Erik Paulson's Combat Submission Wrestling, and two Certified Instructors in the Thai Boxing Association of the USA (Muay Thai).
FREE Trial
FREE Intro Lesson
Experience safe & friendly MMA training risk-free.
Sign up and we will contact you to schedule your FREE introductory lesson.
FREE TRIAL
Free Intro Lesson
Mushin Self Defense
[/db_pb_map_pin]