Salt Lake Muay Thai Boxing
Experience safe & friendly Muay Thai training with our risk-free trial.
Learn More
Free Trial
The instructors are so knowledgeable and explain everything in such great detail. Also, they are the most kind and caring coaches that I have ever had…
Love it here. Best. Gym. Ever.
MUAY THAI BOXING FOR EVERYONE
Whether you're a beginner looking to learn self-defense or an experienced Martial Artist, we have a program for you.
Muay Thai, the science of 8 limbs. Our program makes this science accessible to everyone. Our unique approach to teaching the art makes it safe and easy for anyone to be able to learn and enjoy this incredible system.
Beginners can rest assured that they will be treated with kindness and respect. New comers will not be punched or kicked. Instead you will be taught the fundamentals, the stances, footwork and defense. From there you will begin to enjoy the fantastic workout that Muay Thai gives you by learning how to skip rope, shadowbox, hit focus mitts and finally Thai Pads.
As a form of Self Defense, Muay Thai is hard to beat. It incorporates light and angular footwork, with the use of punches, elbows, knees and kicks. You will learn how to use each of these techniques as well as how to defend against them. 95% of all fights end up on the ground, but 99% of them start on the feet.
Safe & Friendly Muay Thai School
When you come to Mushin Self Defense, you will be welcomed by our many certified trainers, instructors and student body.
Everyone is treated with the highest levels of respect, regardless of your background, fitness level, or ranking. You will receive the best care and level of service as each class has multiple instructors available to cater to each individual student.
We are the first and only school to offer Authentic Muay Thai in the Davis County area. We have been serving our community for over 19 years now.
Whether you're coming from Kaysville, Farmington, Fruit Heights, Centerville, Bountiful, Woods Cross, North Salt Lake or Salt Lake City, we are only a few minutes away.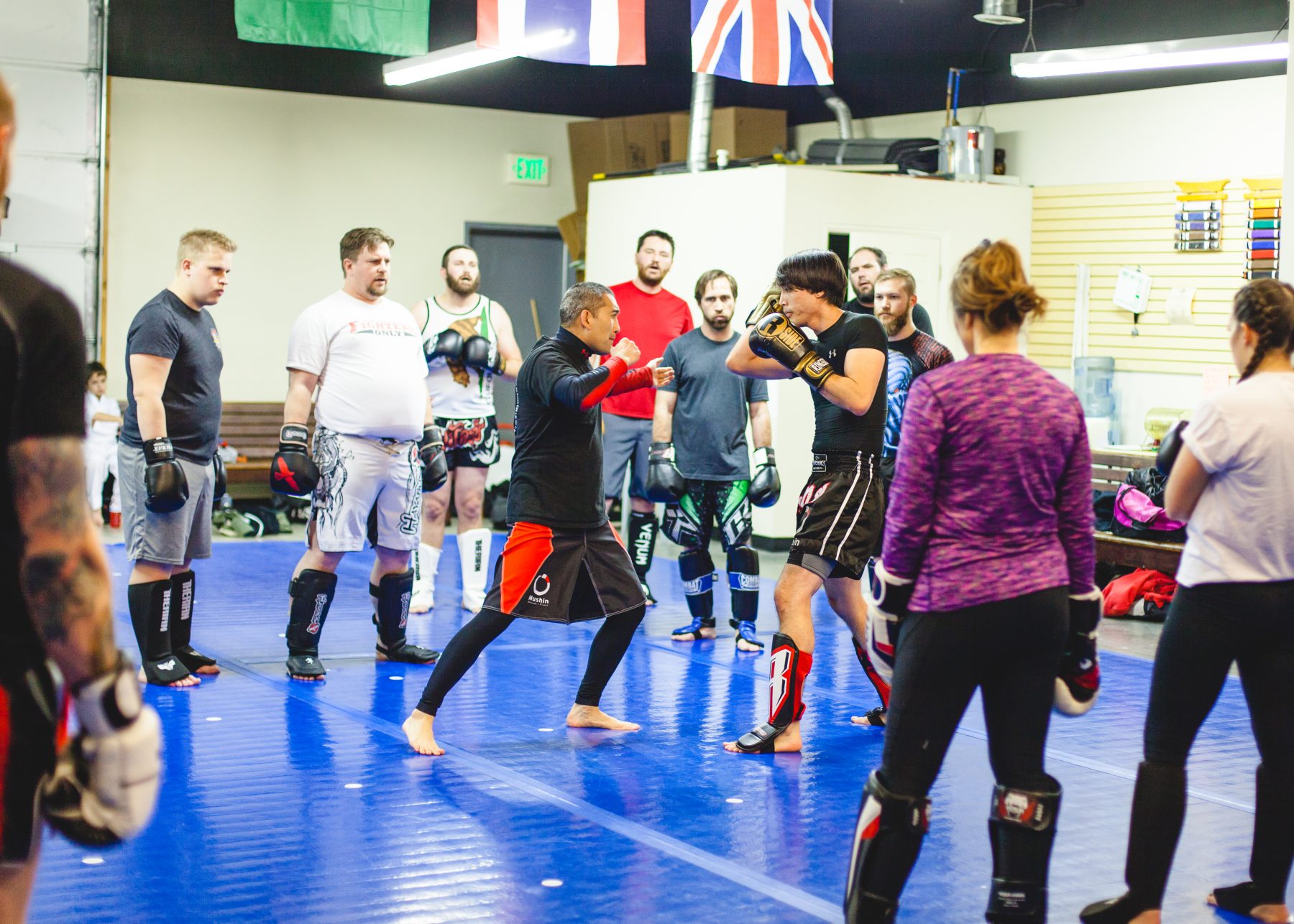 Beginners
This is where you are taught the foundation. For us, the foundation begins with addressing the elephant in the room. That elephant is the fact that nobody wants to get hit.
So why not start there? Let us teach you how not to get hit. When you come to Mushin Self Defense you will learn the Boxing Stance and the Kicking Stance. You will be taught basic and angular footwork, how to parry, cover and evade. You will also learn the basic Boxing punches, the foot jab, theThai Kick, as well as the scoop and shield defenses.
As a beginner you will master the art of defense and the general overview of Thai Boxing. If this were Poker, this would be where you learn what the values of the cards are, the better hands to be played and general strategy.
Level 1
Here you begin to learn the art of counter attack. With the confidence and abilities learned as a Beginner in our system, you will be able to apply basic techniques and concepts to counter anyone that makes an aggressive movement towards you.
You will learn how to recognize and correctly time the bridge step. This is what Bruce Lee referred to as an "Interception" or "Stop Hit". You will be taught how to deal with both trained and untrained types of attack. You will also be trained on how to hold the focus mitts and Thai Pads for your training partners.
Once you've mastered the Level 1 curriculum, it will be very difficult for anyone to make an aggressive movement towards you without being hit.
In Poker, this would be where you learn how to manage your chips. How to bluff, how to bet, how to stay out of trouble, when to raise, when to check, when to fold.
Level 2
At this stage, you will learn how to recognize the different types of defense and how to "Deconstruct" them. You are taught how to probe for weaknesses, and how to form a "Preliminary Analysis" of your opponents.
You will also begin your education in the Prumb, or Thai Clinch where close quarters techniques take place. Neck wrestling, elbowing, kneeing, off balances, base disruptions, dumps, trips and throws all are introduced at this stage.
As a Poker player, this is where you how to play the man, rather than the cards. Learning tells, looking for giveaways, habits, and predictable behaviors.
Apprenticeship Instructor
No one is obligated to become an instructor. However, this option is available to anyone interested and willing to put in the work. At this level, we are interested in seeing how you apply the craft in your own unique way.
We want to see how you work around your own limitations and augment your strengths. We want to see how well you are able to communicate your skills and experience with others and most importantly, find ways to relate to your less experienced peers and help to develop them and make their experiences at the gym better.
FREE TRIAL
Free Intro Lesson
Q: What level of experience do I need to start training Muay Thai?
A: You don't need any background or experience at all.
Joining a muay thai school may seem intimidating, but from your first class you will realize how friendly, patient, & helpful the teachers and your fellow students are.
Q: Do I need to improve my physical fitness before joining?
A: Muay thai training is one of the most fun ways to develop fitness.
Start now and in a few months, you will notice an improvement in your physical fitness just like many of our students have experienced.
Q: What gear do I need to start training?
A: For your first lesson, just show up with comfortable athletic clothing.  Men are encouraged to wear a protective cup.
When you sign up for our free 30 day trial, we will go over any questions you have when we schedule your free intro lesson.
Q: What qualifications do the instructors have?
A: Both coaches Brian & Brandon have many years of experience coaching, cornering, & competing in MMA.
We are the only school in the area to offer two Brazilian Jiu-jitsu Black Belt Instructors, two State Representatives in Erik Paulson's Combat Submission Wrestling, and two Certified Instructors in the Thai Boxing Association of the USA (Muay Thai).
FREE Trial
FREE Intro Lesson
Experience safe & friendly MMA training risk-free.
Sign up and we will contact you to schedule your FREE introductory lesson.
FREE TRIAL
Free Intro Lesson
Mushin Self Defense
[/db_pb_map_pin]