Utah Brazilian Jiu-Jitsu
Experience safe & friendly BJJ training with our risk-free trial.
Learn More
Free Trial
"The guys and girls that train there are just cool people.  I went in as an absolute novice and had no issues.
At the same time, blue belts and higher come in and learn new things. They really cater to your skill level. "
BJJ FOR EVERYONE
Whether you're a beginner looking to learn self-defense or an experienced Martial Artist, we have a program for you.
Brazilian Jiu-jitsu is the art of using leverage, technique and strategy to effectively defend yourself against bigger, stronger, younger assailants.
It is one of the only arts to have multiple documented accounts of actually having lived up to these claims both in Self Defense as well as in the sporting arena.
Brazilian Jiu-jitsu has always been a very important and influential part of our Mixed Martial Art and Submission Wrestling Programs. Now we are excited to offer a class specifically for Gracie Style Jiu-jitsu.
This Gi-Based class covers every aspect of the art from White Belt up through Black.
Safe & Friendly BJJ School
When you come to Mushin Self Defense, you will be welcomed by our staff, instructors and student body. 
Whether you're a complete beginner or an experienced veteran, you will be treated with respect and given our highest level of service.
We are one of Utah's first and finest schools for learning Brazilian Jiu-Jitsu & Mixed Martial Arts.
Conveniently located just minutes away from downtown Salt Lake City and Davis County, we have served the area for over 17 years.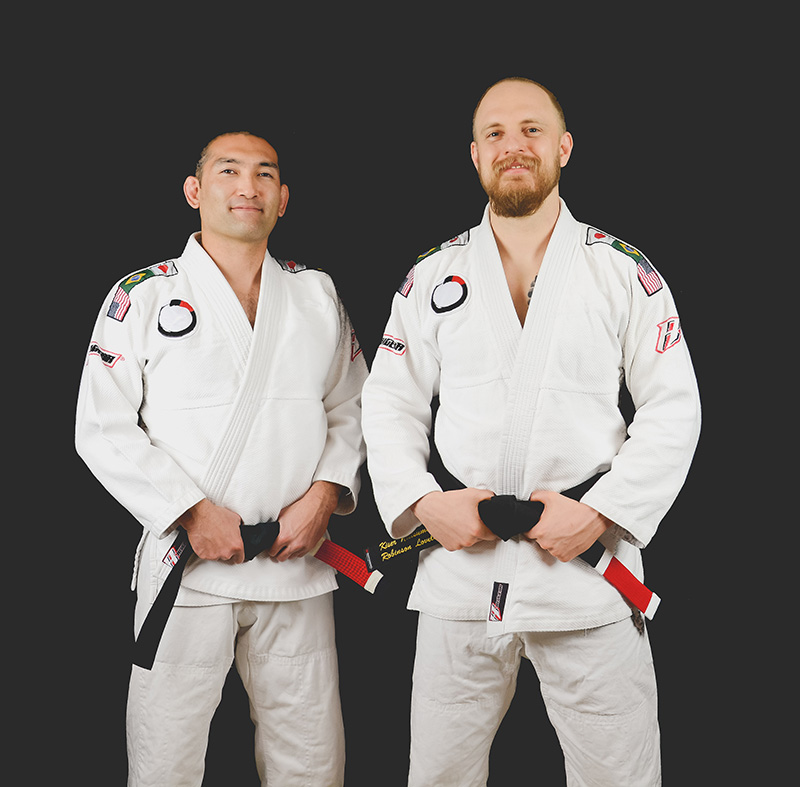 White Belt
The emphasis for the White Belt curriculum is Self Defense. You will be taught how to defend and survive the most common types of street fighting techniques. You will know how to deal with overhand and haymaker punches. You will learn how not to get hit while on the ground. You will learn how to escape dangerous and common positions such as the Mount, Side Mount, and Side Headlock. If you were a musician, this is where you'd be learning basic notes, scales and chords.
Blue Belt
As you graduate to Blue Belt, you will start to learn how to deal with trained fighters. You will learn how to pass the Guard, and how to escape all the main positions such as Back Mount, North-South, and Kesa Gatame. You will also build upon the foundational escapes you learned from the Mount and Side Mount. By the time you make it through Blue Belt, your opponents will have a hard time keeping you on the bottom. As a musician, this is where you'd be putting songs together and playing whole pieces of music.
Purple Belt
The goal for our Purple Belts is to begin learning concepts. You will learn our "Street Map Theory", as well as be taught how to deconstruct and reverse engineer submissions to understand them from the viewpoint of what's happening on your opponent's end as opposed to focusing on your end, where the focus is on putting your hand here, your arm there etc. Finally, you will learn our "Closed Loop", "Revolver" series. It is a lock flow designed to keep you one step ahead of your opponent, to keep him/her suppressed under threat of submission, and keep you positionally, and transitionally, in control. Going back to our musician analogy, this is where you should be picking up gigs or at least being able to play covers.
Brown Belt
Once you earn your Brown Belt, things start to get interesting. This is where you will be expected to develop your own game. This process will have started during your Purple Belt Phase, but now we are looking for refinement and polish. And more importantly, we are looking for personal expression. Think Johnny Cash plays NIN (Trent Reznor) "Hurt". The words and music are Mr. Reznor's but it's a completely different song with new and unique meaning when Johnny Cash plays it. He owns his own personal expression of that song. But he also has his very own style and genera of music. This is what we are looking for when you are ready for your Black Belt.
FREE TRIAL
Free Intro Lesson
Q: What level of experience do I need to start training BJJ?
A: You don't need any background or experience at all.
Joining a BJJ school may seem intimidating, but from your first class you will realize how friendly, patient, & helpful the teachers and your fellow students are.
Q: Do I need to improve my physical fitness before joining?
A: Jiu-Jitsu training is one of the most fun ways to develop fitness.
Start now and in a few months, you will notice an improvement in your physical fitness just like many of our students have experienced.
Q: What gear do I need to start training?
A: For your first lesson, just show up with comfortable athletic clothing.  Men are encouraged to wear a protective cup.
When you sign up for our free 30 day trial, we will go over any questions you have when we schedule your free intro lesson.
Q: What qualifications do the instructors have?
A: Both coaches Brian & Brandon have many years of experience coaching, cornering, & competing in MMA.
We are the only school in the area to offer two Brazilian Jiu-jitsu Black Belt Instructors, two State Representatives in Erik Paulson's Combat Submission Wrestling, and two Certified Instructors in the Thai Boxing Association of the USA (Muay Thai).
FREE Trial
FREE Intro Lesson
Experience safe & friendly MMA training risk-free.
Sign up and we will contact you to schedule your FREE introductory lesson.
FREE TRIAL
Free Intro Lesson
Mushin Self Defense
[/db_pb_map_pin]